Speaker
Kathleen sharing life-stories of courage and God' grace.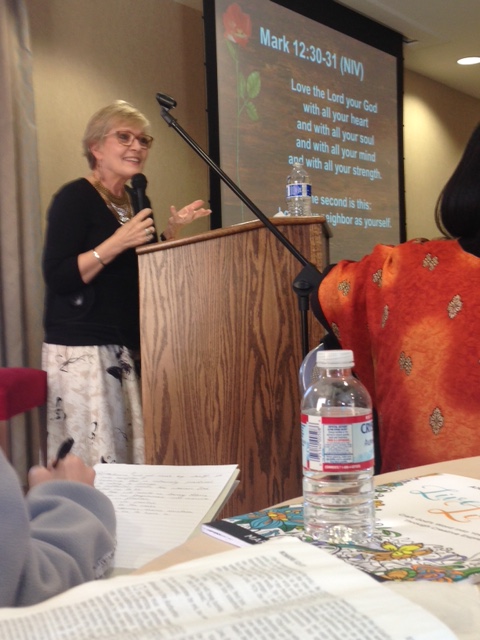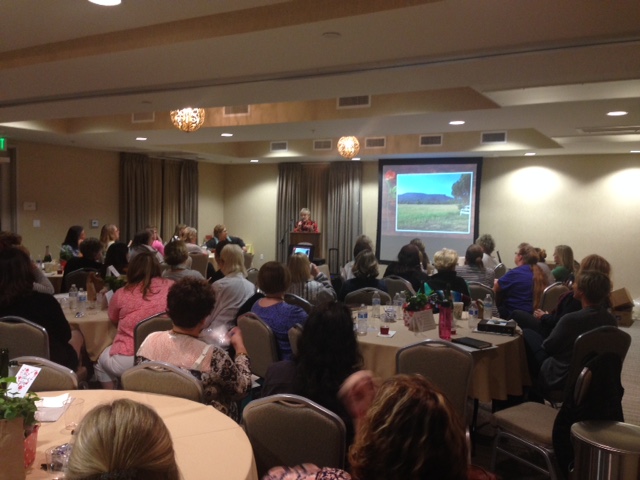 Looking for a speaker for your event? I am passionate about sharing the promise Lord makes available to us in Jeremiah 29:11 that His plan for us is for a "future and hope." Life-stories, both His story through my life and through others whose lives give us courage to lead, build the foundations for my speaking topics! For more information please contact me directly. I am happy to email you the information you request plus a partial listing of speaking topics I have available. Need a little more information? Read on below ...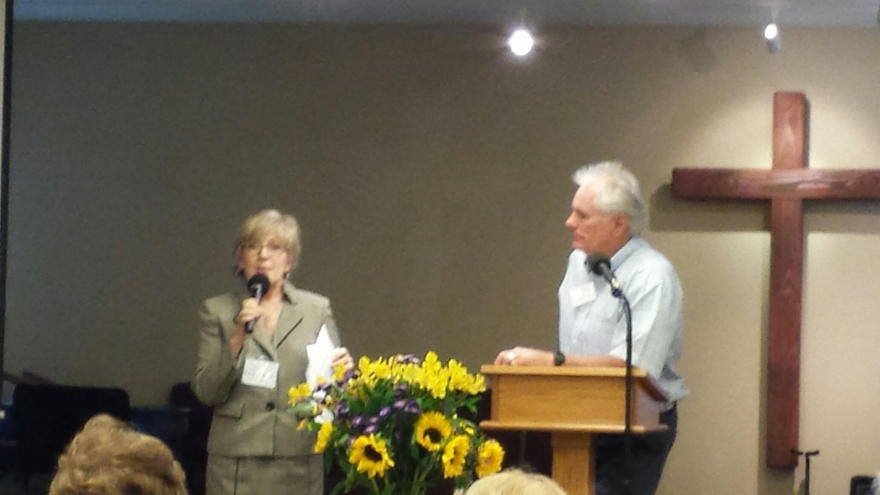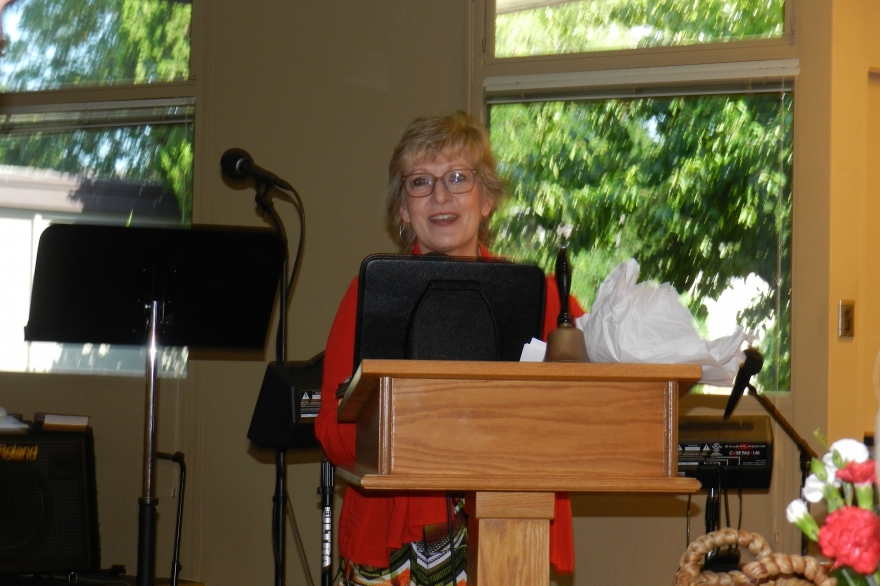 Joshua 1:9 "Have I not commanded you? Be strong and courageous. Do not be frightened, and do not be dismayed, for the Lord your God is with you wherever you go." ESV
God has given me a story. You have a story. I would count it a privilege to share with you as a speaker, as a sister-in-Christ, the story He has given me to share with you.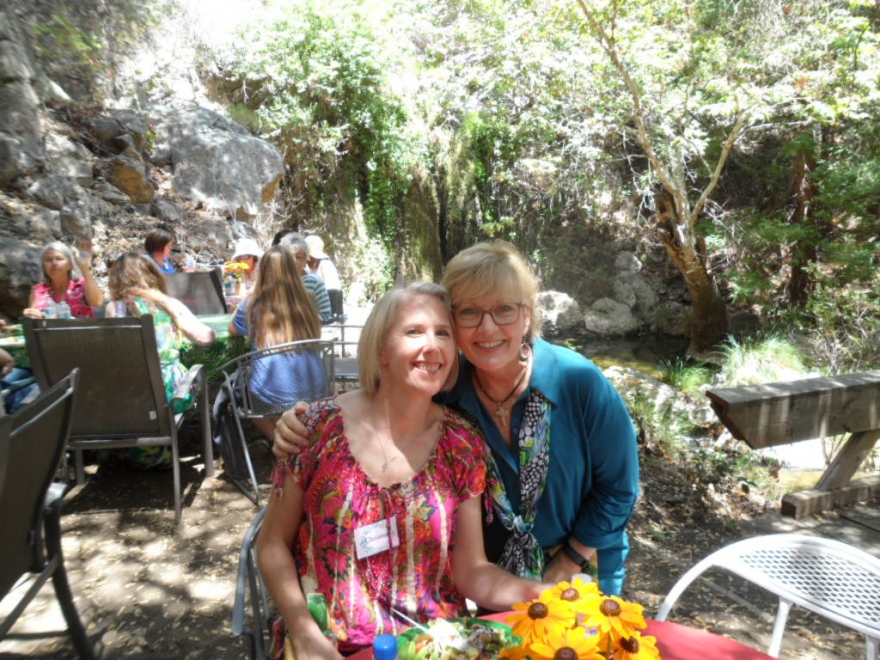 With a dear sister during one of the retreats I've led near Malibu, CA
I am blessed woman. I am a broken woman. I am a "country girl with roots and boots." I am a committed wife of decades. My husband and I have seen Jesus minister to us in many ways which I will share in my story. For example, my husband survived a commercial plane crash four months after our marriage in the Rocky Mountains during a blizzard. A year later we had a house fire. Four months following the house fire our first son, Nathan, was born to us prematurely with major disabilities. We saw a number of MIRACLES in Nathan's life before His home-going to be with Jesus as a toddler. We have had the privilege and normal challenges of being parents to and raising two more amazing sons who are now married to wonderful wives ... and we enjoy our first two young grandsons and our involvement in their little lives. Over the years I have been diagnosed with Lymes disease, Fibromyalgia, cardiac challenges, had a miscarriage and have been diagnosed with breast cancer three times. I have had absolute "miracles" (admitted to by top doctors) and I have gone through the deep, difficult valleys of medical treatment and many surgeries for a variety of things. I have endured the heart ache of the deaths of beloved family members and relationships. Do you see a glimmer of your story which resonates with mine?

My story, given to me by God, has seen amazing, audacious blessings from the Lord and indescribable joy ... and life-challenges which are in common with many of you. I have had the privilege of being a teacher and owning my own business as global entrepreneur in ten plus countries around the world giving me opportunity to speak on leadership both in the USA and Mexico.
I have had the privilege of being a full-time Mom to and raising two athletic, musically and academically gifted sons. So ... yes, I do understand being a BUSY Mom and one who DEEPLY desired our sons to be ROOTED firmly in a authentic relationships with Jesus. I was very involved as a parent in the boys' school, especially during their middle school and high school years because of my health issues when they were younger. As P.F.A. President, Co-chair for the marketing arm of the school, Soccer "Mom" to the High School Team and Room Mom more than once I was involved in LIFE at their Christian School. Because of that involvement the Lord laid on my heart the deep need for a Moms Bible study ... to come along side Moms to give COURAGE to parent in godly ways. I enjoyed this role for a number of years in the school and in my home, which likely was the precursor for my decision to become a Christian Life Coach. Following my time of raising our sons, the year after our youngest left for college, I was invited back to serve again at the school for a three year term on the school board which was a distinct privilege and honor.

I have watched the Hand of God provide comfort and peace and COURAGE and yes, leadership in and through me in ways that I could have never imagined growing up as a young, Irish country girl on ranch on the border of Colorado and New Mexico in a very large and very loving family. I loved riding horses and playing with kittens, I enjoyed 4-H and was involved at a tiny rural school in every possible way. It was at age 17 that I gave my life to Jesus. I loved God from a young age, was raised in the church ... and at 17 was asked by a teacher at school if I'd like to be in a Bible study. I absolutely love studying God's Word with them and worshiping Him in song around the guitar. I joined this tiny Bible study group in going to see an evangelistic movie by Billy Graham where the Holy Spirit moved on my heart to receive Jesus Christ personally as my Lord and Savior. My life has never been the same since!
Who knew what story the Lord would give to me in my future to share with you! A story about HIM and the miracles that HE still does ... yes, today! A story of HOPE and COURAGE and yes, LEADERSHIP because of His great love and grace and mercy!
I would be honored to share my Life-Story, my Keynote Speech or one of my workshops or retreat topics with your group. Feel free to contact me today to discuss your event. (Contact information is below)

Blessings,
Coach Kathleen